Classes
Weekly classes are available on a trimester basis.
Mini Master Class Series Now Live! – We are excited to announce our new video series, "Mini Master Classes"! We will be posting short videos from our expert instructors in all things music, so you can hone and master your skills from home. Enjoy our first video from Director of Woodwinds, Lea Botta-Whiting on using breath correctly for wind instruments.
Check out our next "mini master class" from Encore's own, Carl Scheinman! Carl, a clarinet instructor at Encore, teaches us a great way to learn how to get over "the break" on the clarinet by leaving the right hand down so less fingers are needed. Great tip, Carl!
Next up, learn bowing technique for string instruments from Encore faculty member, Don Krishnaswami!
Are you an avid musician, itching to get back into the recording studio? Well, until it is safe again, learn these amazing tips on how to get a great recording from home from Encore faculty member, Emma Newton!
Next up is this amazing mini master class on guitar with Russell Chudnofsky!
Enjoy this next mini master class in our series from Joyce Harrington, Woodwinds instructor at Encore, on the Saxophone family!
Enjoy this next video by Encore's own, Becki!!
---
Summer Music Theory Intensive – 3-hour classes for Beginning to Intermediate Theory. Classes from 3pm – 6 PM, Monday through Thursday, July 6 – July 30, 2020.
Music Theory – One-hour classes available for:
Beginners (RCM Level 5)
Intermediate (RCM Levels 6 and 7)
Advanced (RCM Level 8)
Online Piano Class for Seniors – Encore is offering an all new online piano class for senior citizens, ages 60 and up, all levels and abilities welcome! Class takes place Mondays from 7-8 p.m. online, in light of the COVID-19 pandemic. All you need is a piano or keyboard, an internet connection, and a phone or computer with a camera and microphone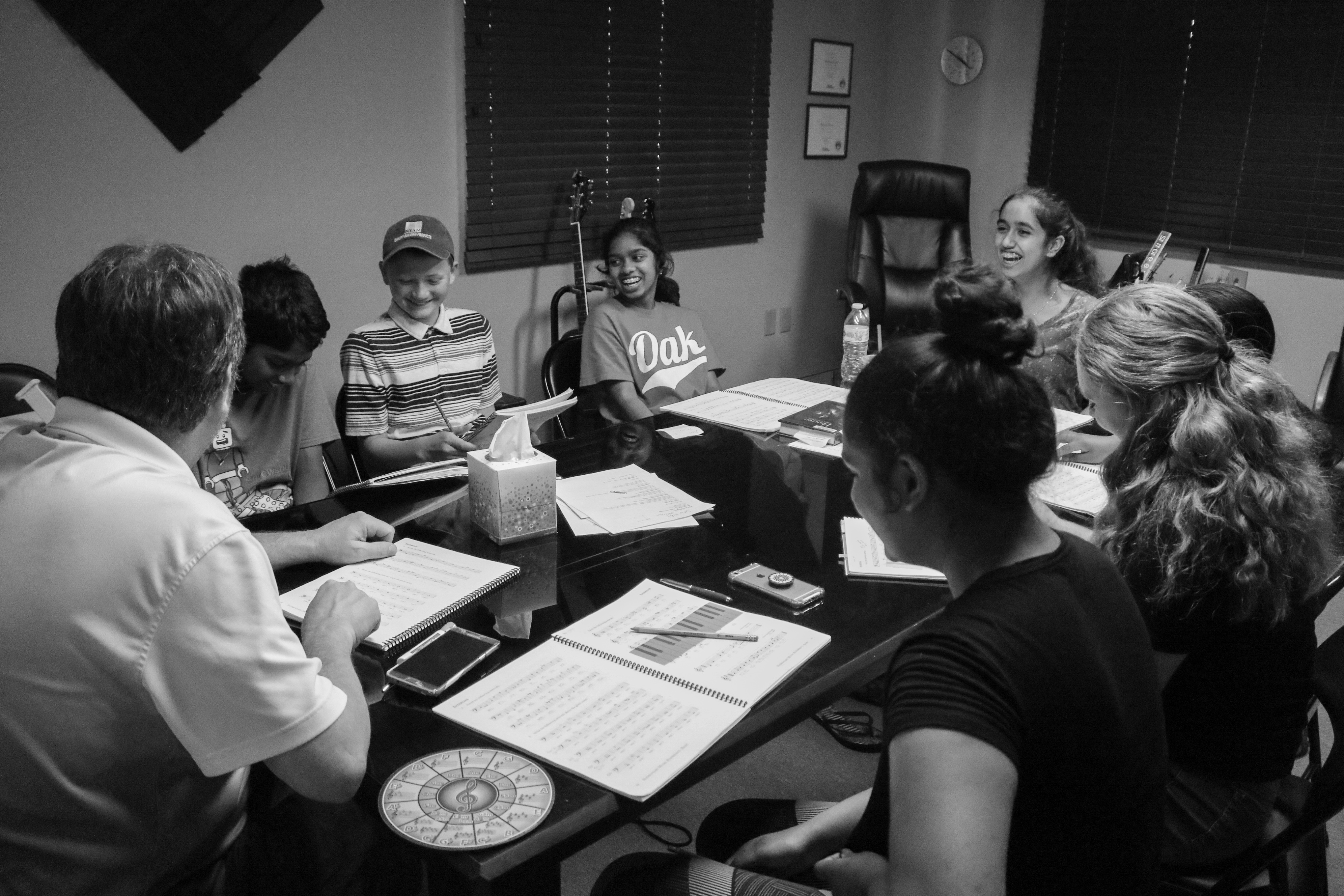 Songwriting and Composition – 30 minute and 60 minute classes available. Ages 14 and up. The Songwriter's Workshop is a class designed specifically with the modern songwriter in mind. We focus on the details of lyric writing, exploring rhyme schemes, literary devices, and lyrical analysis to assist our creation of vividanddescriptive stories.  The class will analyze examples of popular song structures and music theory specific to the modern songwriter. Basic music theory is not a prerequisite nor is the ability to play an instrument, but it is strongly encouraged. Students have the opportunity to showcase their existing compositions or songs in progress with the class as we offer constructive critique and analysis in a safe and intimate setting. Students also have the opportunity to record their compositions in our state-of-the-art recording studio!
The Music Zone – An exciting new class for ages 8-12 that explores music by combining beginner theory, games, music listening skills, singing, and exposure to repertoire from the classical genre to today's current music. Through the study of a brand-new instrument, the recorder, the class will bring their new-found music skills to life as they play in an ensemble setting.
The Singing Actor – A class for ages 10 and up that brings together all the aspects of vocal performance: Song preparation, stage presence, auditioning, and monologues. This class will explore the many ways to bring our song characters to life! Designed for ages 10 and up, this class will use group and solo activities to learn and practice various modes of expression and interpretation.
Guitar Circle – Take a class with a group of fellow guitar enthusiasts. Guitar Circle is taught by highly esteemed guitar instructor, Russell Chudnofsky, and is open to acoustic and electric guitarists, ages 10 and up. We welcome beginners, as well as guitarists with some experience. Learn your favorite songs of today, or the classics of Rock 'N' Roll like The Beatles or Led Zepplin, using solid techniques and musical concepts. A fun way to play and learn guitar in a group setting.
Ukulele For You! – Back by popularity, this class introduces students to the ukulele through strumming and picking techniques. No experience required, but experienced players are welcome. Learn to strum along with the hits in a group setting, or brush up on your skill set and learn some new ones, too. This entertaining class will teach you everything you need to know about uke, and get you up and playing your favorite songs in no time!
Ear Training – 30 minute classes available.
Audio Recording Techniques – 60 minute classes, available for study of analog and digital recording methods and techniques
Piano Lab
Learn how to play piano in a group setting! Progress at your own tempo! Our skilled piano lab instructors will help you achieve your piano goals!
Classes will include 3 to 6 students. With the use of headphones in class, along with our piano lab textbook, students will learn and practice with the guidance and individual attention from our piano lab instructors. Students will also participate in group piano pieces as part of a piano lab ensemble within the class setting.
Piano lab is a great class for beginners over the age of ten, and for students of all ages with previous musical experience on any instrument, for students who study voice, and for those who are interested in learning keyboard skills to augment their study of music. Vocal students can even learn to accompany themselves!
Interested parties should contact us at 508-533-7700 or at encoremusicacademy1@gmail.com for more information.***
---
Ensembles
Encore also offers a wide variety of ensemble opportunities, and we are always adding more!
Rock 'N' Pop Ensemble

Come join our growing Rock 'N' Pop Ensemble here at Encore! Have you ever wanted to learn an instrument, join a band, and be a rock star? Now is your chance! In addition to regular classes for practice, members of the ensemble also have the opportunity to record the songs they are working on in our recording studio.
Check out a recent recording from the "Pop Rox", performing "I'm Still Standing" by Elton John!
All instruments are welcome, and encouraged! The class is for students ages 10 and up.
Vocal Preparatory, Wednesdays 5:00 PM – 6:00 PM 
This class is for boys and girls, ages 6-8, who may not be ready for private lessons yet, but who love music and want to sing. This class will introduce rhythm, musicality, and the basics of harmony in the form of ear-training. This is the perfect start for those hoping to participate in the Royal Conservatory of Music program, or those who simply love to sing!
The EnHarmonix, a Recording Ensemble, Wednesdays 6:00 PM – 8:00 PM
This class, held in tandem with our Recording Techniques class, is designed to teach students what it means to work as a studio musician/back-up vocalist. Students learn, firsthand, about mic technique, teamwork, patience, preparedness,
harmonies, and production. This is a two hour weekly class which requires home preparation, commitment and flexibility. Students will have opportunities to record alongside recording artists, on their own as a group, and as soloists. The EnHarmonix is a great way for students to learn to work together, make friends, and have fun doing what they love!
Joining the EnHarmonix is by invite only. 
Wind Chamber Ensemble, Mondays 7:00 PM – 8:00 PM 
Come join our growing class! Under the instruction of Woodwind Specialist, Lea Botta, Wind Chamber Ensemble meets weekly for an hour, all ages are welcome. Chamber music means an ensemble smaller than a traditional band, performing with or without a conductor. It's a great way to improve your ensemble skills. Although chamber music is traditionally from classical genres, pop and jazz will also be part of this class's repertoire. Performance opportunities will be available throughout the year. Two years experience or more is suggested, but not required.
All woodwind instruments are welcome: flute, clarinet, saxophone, oboe, and bassoon.