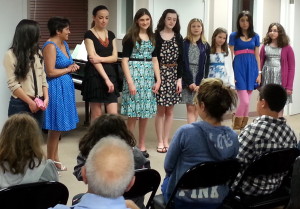 Weekly classes are available on a trimester basis.
Summer Music Theory Intensive – 3-hour classes for Beginning to Intermediate Theory. Classes from Noon – 3pm, Monday through Thursday, July 6 – July 30.
Music Theory – 45 minute classes for beginning, intermediate, and advanced levels.
Audio Recording Techniques – 60 minute classes available for study of analog and digital recording methods and techniques.
Songwriting and Composition – 30 minute and 60 minute classes available.
Ear Training – 30 minute classes available.
"Encore is a friendly, music-filled environment. I love being here. I love my oboe and voice teachers." —Kathleen
Encore is pleased to introduce three new classes designed for students interested in continuing and expanding their musical education in theatre. These classes will be for students ages 12 and up. Call us at 508-533-7700 for more details.
The Audition Process
This class will help prepare students for theater and musical theater auditions. We will cover everything from what to wear to appropriate songs to sing. Students will be taught how to present themselves, they will be given monologues and songs to work on and perfect. They will leave this class with their own personal audition plan and the confidence to walk into any audition completely prepared.
Reader's Theater
This class begins with a favorite children's book chosen by each student. We will take each book and work on turning it into a script appropriate to perform for young audiences. The goal of this class is to begin the playwriting process, explore acting and directing techniques and become more comfortable with public speaking and performance.
Stage Presence and Movement
Every theater production involves movement, whether normal blocking in a straight play or dance in a musical. This class will teach students to move comfortably on stage and teach the basics of directing terms (blocking, upstage, downstage, stage left and right). We will also teach simple steps to help students with the choreography portion of a dance audition for a musical. No dance experience necessary. We will not focus on technique but explore simple movement and rhythm.
Jazz & Funk Ensemble
There are very few situations today for serious students and adults to rehearse and perform in a big band setting.
The Encore Jazz Ensemble is an audition-based group that is open to the community. Classes run through a given semester, with performances at the end of each semester featuring many of the musicians playing both written and improvised solos. Based on enrollment, we hope to offer several levels of classes.
The music for each ensemble will be a combination of classic and modern jazz, blues, funk, and contemporary music, making it educational, challenging, and fun.
The arrangements will be written exclusively for the instrumentation and the ability levels of the players in each ensemble. Custom arrangements will be created for each group, with the goal of improving the overall performance level of the individual students and the whole group.
Encore vocal students will also be invited to join the group as featured soloists.
Audio Recording Techniques
Audio Recording Technique classes are 60 minutes, and are designed for all levels and abilities. Rather than focusing on specific software, we concentrate on track set-up, input/output, mic placement, signal flow, compression, MIDI, plug-in use, EQ, mixing, creating beats or utilizing samples, and basic mastering.